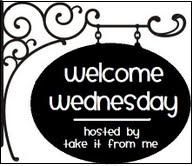 Welcome to my back up project for the Welcome Wednesday blog hop at
Take It From Me.
The project that I wanted to post was a new technique for me, making some jewelery out of my scrap stash. It turned out really cute, but has a few kinks that I want to work out before I share that one with you. So this is what I decided to post for you today.
This layout is also something new for me. I usually scrap about my kids and not me or the things that I love. I am trying to change that. When my kids signed up for the summer reading program at the library, I decided to sign up to. I started reading the Stephanie Plum series by Janet Evanovich. From the first one, I was hooked. In just a few weeks, I had read all sixteen books in the series. (She has since came out with one more that I can't wait to get!)
This layout has some pages from an old book that I found at the Goodwill. I love to read and even though that book wasn't something I was interested in, I had a hard time ripping out the pages! I folded the strips and added to the bottom. The other printed word paper is from Jenny Bowlin. I also used some printed paper from the DCWV stack, Hittin the Books that was on clearance at my Michaels. On the bookmark is a Tim Holtz stamp. I also used his Tiny Attacher for some accents. The flowers are Prima and Paper Studio. For the center of the larger one, I used a technique that I saw on
Scrap Our Stash.
They have a Frugal Friday tip that said to add some Glossy Accents to the center of a flower and then add microbeads. I had gotten some from a swap that I had never used, but they matched perfectly! The title is cut from my Cricut with Street Sign.
I loved doing this layout and I really like how this one turned out. I have some more pictures of "things" that I am ready to scrap! Hope you like it! Happy crafting!